{product.name}
AntlerMax® Water Shield® Deer 20 Feed
A 20%-protein, water-resistant pelleted ration designed to enhance the deer's natural forage diet. The high protein content supports top performance with AntlerMax® Technology to promote superior antler growth in bucks, reproductive success and abundant milk production in does, and supports optimum growth and healthy development in fawns.
Specifically formulated for what free range deer require to support overall health, reproductive performance and antler growth. The Water Shield® technology is a water resistance process that helps repel moisture and designed to result in reduced waste and labor associated with water damage.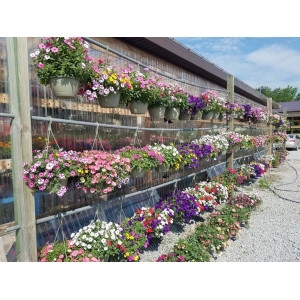 While Supplies last, hanging baskets are $13.99 or 3 for $40! Not valid with any other discounts or sales.
Offered By: BDK Feed and Supply
While supplies last, vegetable flats now just $9.99! Not valid with any other discounts or sales.
Offered By: BDK Feed and Supply
About us
Established in 2009, BDK (formerly known as BDK Feed and Supply) has proudly served our customers and community. BDK is a family owned and operated business committed to providing our customers with quality affordable products. Our recent move and expansion has allowed us to stock more products and add to our vast product offering. With over 12,000 items we can offer customers a true "One Stop Shop" experience. From Farm Feed, Pet Supplies, Lawn and Garden, Lumber and Hardware we have you covered. If you do not see a product that you need - ask about our special order service - BDK has access to over 100,000 products.