{product.name}
Scotts® Nature Scapes® Advanced, Deep Forest Brown
With New Scotts® Nature Scapes® Advanced Color Enhanced Mulch is the only garden mulch designed to extend color longevity, conserve water and prevent weeds naturally. Use up to 30% less water than with ordinary mulches while still getting the year long color (guaranteed!) and the natural weed prevention you have come to trust. 2 cu. ft.
Each Nature Scapes Advanced mulch offers several advantages over ordinary mulches. To start, Nature Scapes Advanced mulch includes Scotts' Water Smart design, which uses exclusive water-directing polymers that evenly guide water from top to bottom over your roots. With Water Smart, you can use up to 30 percent less water in your garden compared to traditional mulches, making Nature Scapes Advanced a particular favorite in mid- to late summer. Nature Scapes Advanced also keeps its classic black color for one full year, guaranteed. No more wondering why your three-month-old mulch looks just as plain as your dirt pile in the corner. Best of all, Nature Scapes Advanced mulch prevents weeds naturally. A 3-inch layer of Scotts mulch will block growth and sunlight for weeds of all kinds, so your groomed landscape will look great all year long.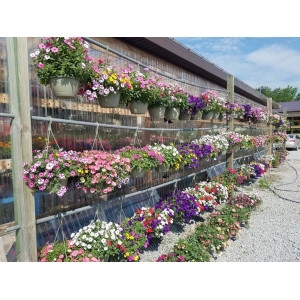 While Supplies last, hanging baskets are $13.99 or 3 for $40! Not valid with any other discounts or sales.
Offered By: BDK Feed and Supply
While supplies last, vegetable flats now just $9.99! Not valid with any other discounts or sales.
Offered By: BDK Feed and Supply
About us
Established in 2009, BDK (formerly known as BDK Feed and Supply) has proudly served our customers and community. BDK is a family owned and operated business committed to providing our customers with quality affordable products. Our recent move and expansion has allowed us to stock more products and add to our vast product offering. With over 12,000 items we can offer customers a true "One Stop Shop" experience. From Farm Feed, Pet Supplies, Lawn and Garden, Lumber and Hardware we have you covered. If you do not see a product that you need - ask about our special order service - BDK has access to over 100,000 products.