{category.name}
Small animal house can be hung from the top of a wire cage or turned over and placed in the bottom. Comes apart for easy cleaning. Small size good for hamsters, mice, sugar gliders and other pocket pets. Also great for small nesting birds.
Quick Fill Bottles have flip top lids and a precision stainless steel valve. Flat-sided bottle hugs the cage and comes with an easy to use bungee attachment. Bottle made of PET plastic and is BPA free.
Multi purpose economical water bottle & tube cleaning brush set. Extra long flexible handle for all sizes of bottles. Wide brush at bottom with bonus nozzle brush contained in the handle for nozzle cleaning. Just pull out to use. Designed to clean any type of pet water bottle. A MUST have item if you use water bottles. Great for regular household use too.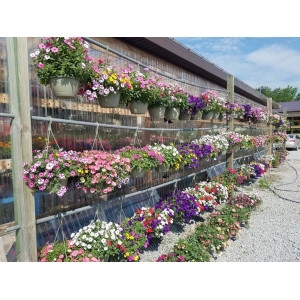 While Supplies last, hanging baskets are $13.99 or 3 for $40! Not valid with any other discounts or sales.
Offered By: BDK Feed and Supply
While supplies last, vegetable flats now just $9.99! Not valid with any other discounts or sales.
Offered By: BDK Feed and Supply
About us
Established in 2009, BDK (formerly known as BDK Feed and Supply) has proudly served our customers and community. BDK is a family owned and operated business committed to providing our customers with quality affordable products. Our recent move and expansion has allowed us to stock more products and add to our vast product offering. With over 12,000 items we can offer customers a true "One Stop Shop" experience. From Farm Feed, Pet Supplies, Lawn and Garden, Lumber and Hardware we have you covered. If you do not see a product that you need - ask about our special order service - BDK has access to over 100,000 products.